The Vercors regional nature reserve.

The Arzelier Pass- the two sisters.
28-10-2006


What could be more soothing on a fine Autumn day than to leave Grenoble and head for the Vercors, but by the south. Taking the Vif direction and then, on the exit towards Monestier de Clermont, take Miribel Lanchâtre. At Saint Barthelemy, head for Prélenfrey and Col de l'Arzelier. Park next to the ski-lift. Now you are in a different world only twenty or so miles from the Isère county town. Here you can get to the Vercors plateau by the 'Col des deux sœurs' or the 'Pas de la Balme' for sporting types. Here we will happily go for a family walk to the bottom of the Two Sisters mountain..
Click on the image to get an enlargement(with F11 it's bigger)!
01-The Two Sisters (2056 m), Agathe to the south and Sophie to the north as seen from the Arzelier Pass.
10- Lovely view towards the south across the Château Bernard valley, then Pey Bousou and the Needle Mountain(le Mont Aiguille).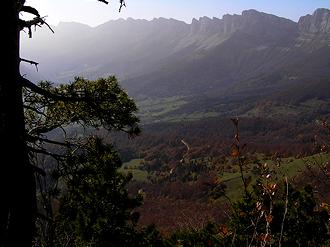 11- View across the Château Bernard valley, the Barnière Woods, the Ras and Crose woods. Infront of neverending ridges.
©Trevor Hornsby/Slip Sliding 2006-2013